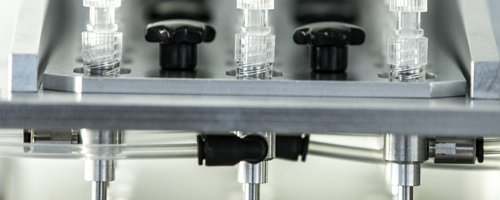 DBV-Technologies – is it time to say goodbye to food allergies?
Allergies have been around for a long time, but in recent years, especially in the western world, they have become much more prevalent. Fish, seafood, milk, eggs and various kinds of nuts can all trigger allergic reactions in people, with consequences that can sometimes be fatal.
At www.dbv-technologies.com/en, the race is on to develop products which can diagnose and treat food allergies in a way that's effective and painless. This has taken the shape of a series of adhesive patches, called Viaskin. So far, Viaskin milk, Viaskin egg and Viaskin peanut (http://www.dbv-technologies.com/en/viaskin-products/viaskin-peanut) have been created. Still in the testing phase, Viaskin patches are different from many other allergy treatments in their epicutaneous approach. This is largely possible through the employment of special technology, especially the use of the electrosprays you can see in the photo below. These send out an electrically-charged stream of proteins (antigens) upon the surface of the patch, which is then applied to the skin. The patient's body heat creates a 'condensation chamber' effect which solubilizes the proteins, enabling them to pass through the skin and start helping the individual to develop a tolerance for the allergen in question.